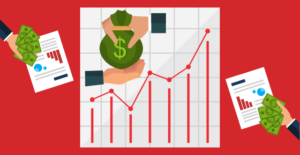 I just read an interesting article about how a loosely regulated market allows for what can only be described as predatory loans in Utah. It's an interesting question for me because the main rational behind allowing loans with an interest rate of up to 200% is aligned with a Libertarian ideology.
Basically, predatory loans in Utah are allowed because the legislature in that state doesn't put a legal cap on the highest interest rate allowed. Most states do so and the Federal Government mandates active-duty service members, but no one else, cannot be charged more than 36%.
Are they Predatory Loans?
Let's dispense with this question right away. The loans are structured in a way to trap low-income borrowers into paying back far more than they took out. The loans are absolutely predatory. Most of them come with a 90-day stipulation that if you pay it back in that amount of time the higher interest rate doesn't apply.
They are largely taken by people in desperate situations, often an unexpected car repair. Without a car the borrower will lose their job. Without a job …. Anyway, the design is predatory, that much is certain.
The Service of the Loan
While the loans are certainly predatory, the people who take them are in desperate need and cannot get a loan legally any other way. They generally have poor credit ratings and cannot get a loan from a bank that doesn't offer such a high interest rate. This because most states regulate an interest cap.
Banks know that such loans have a high default rate. In order to make up for that default rate, a crazy-high interest rate is charged for those that cannot repay immediately.
The people who take these loans are the same people who end up owing money to extra-legal lending sources and payday loan companies.
Different than Banks and the Government?
I've written about how the government itself operates like a loan-shark with ridiculous fees and escalating fines for late payments. I've also talked about how the government and private industry intentionally created the student loan situation in which we find ourselves.
The government intentionally bankrupted the United States Postal service largely at the behest of banks in order to take out massive loans with the never-ending interest payments.
Financial Ruin of Unpaid Predatory Loans
One of the interesting things about loans is if a bank gives issues too many that default, the bank itself goes out of business. The bank doesn't have a pile of cash sitting in the vault. They take the money you give them in interest payments and loan it to others. If enough others fail to pay, the bank gets into trouble. Some may remember the recent housing crisis. The student loan crisis we currently face. These are directly related to too many bad loans resulting in defaults.
This is why the Utah banks in question don't do the majority of their business in such loans. It's a dangerous game to play.
Is Utah in the Wrong?
Is Utah wrong to allow banks to charge up to 200% interest rates for these types of loans? If the banks do not provide this service, will extra-legal loan-sharks step in? The government, with their long record of predatory behavior, is hardly an institution I trust to rein in this practice.
There is real damage, of course. A certain percentage of those who take out the loans cannot pay them back in 90 days and end up with unsustainable payments. Even if people stop paying and incur some court-ordered lesser payment plan, they suffer financial difficulties for a long time if not the rest of their lives.
Conclusion
Ok, Tom. The loans are predatory and people will suffer. But you don't think regulating them will help. Do you have anything useful to say or was this just an intellectual exercise?
Good question. I think some problems just don't have solutions. As long as people are poor and need money, such loans will exist, legal or illegal. It'd be nice if we didn't have poor people. If there was a way to provide for all people in need, whether they deserve it or not, whether they've earned it or not. There currently is not such a system in place.
I guess my only real point here is to beware of what appears to be a simple solution to a complex problem. It can make things worse rather than better.
Tom Liberman