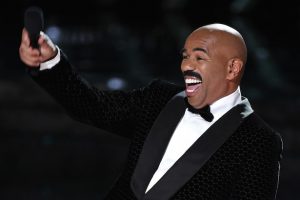 I just read an interesting story about entertainer Steve Harvey and a memo he released to his staffers. It's getting a lot of bad press. What I find fascinating is that his basic message is perfectly reasonable. It is the delivery that gives rise, and reasonably so, to the criticism.
That difference between the message itself and the manner in which it was delivered is what I'd like to examine today. Let's pretend we are on the receiving end of the memo in question. Let's imagine our reaction depending upon the way it is written, rather than the content. We are an employee of Harvey or perhaps a perspective employee reading the memo in the news. How would we react? What actions would we take depending if we heard the basic premise or, instead, read the actual memo?
Now, as to the memo itself. Apparently, Harvey is often approached by staff while in his dressing room and during his time in the makeup chair. These disruptions make it difficult for him to focus on his job and cut dramatically into his free time. That makes perfect sense to me. When you are the lead talent on a television show, it's important to manage your time properly. You can't have unscheduled meetings throughout the day or you will find your performance suffers. Harvey is completely right about this.
Yet, his message repeatedly states the same point over and over again. He starts off in an extremely friendly tone but quickly degenerates into all capital shouting including threats of removal for as much as opening his dressing room door.
The first five paragraphs of the new rules basically list the same rule five times. Please don't do A. If you do A, I will be angry. Don't do A. If you do A you will be punished. Has anyone ever sat you down and told you the same thing over and over again? It's incredibly condescending and annoying. The entire message could have been delivered in short but coherent memo not more than three paragraphs long. It could have been sent in a polite fashion or perhaps a firm fashion. That would be up to Harvey to decide.
It's so fascinating to imagine myself on the receiving end of such a memo and my reaction to it. I'd like you to do the same. Let's say you actually get the ranting, repetitive, all cap filled memo. If it was me I'd be thinking about a new job. The person who wrote it is clearly unstable. The person who wrote it most likely has anger management issues. It's clear to me the person who wrote this doesn't have impulse control and working for such a person is a nightmare. Even if I desperately needed the job, I'd immediately be putting my resume out there. I'd certainly think twice before taking a job for the person who wrote that memo. I would imagine anyone working for Harvey pretty much lives in constant fear of a mercurial and autocratic maniac.
On the other hand, if someone simply told me that Harvey doesn't like being approached while in his dressing room or during makeup, I'd simply shrug my shoulders and say it sounds pretty reasonable. I'd go about my day without as much as another thought.
Now, maybe I'm fooling myself. I don't actually work for Harvey. But the stark difference in the reaction I think I'd have is profound. If you are angry about a situation and thinking of writing a memo, I'd urge you to think about the situation. What impression do you want people to have of you?
It's much more than the message itself, it's the manner in which it is delivered.
Something to consider at least.
Tom Liberman