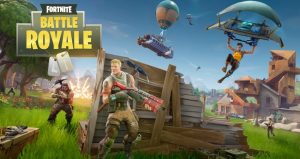 There is an interesting situation in the video game world in that a company called Epic Games is suing players of their game, Fortnite Battle Royale, for cheating. What's that you say, video games and the law colliding? Have I died and fallen into the noodly appendages of the Flying Spaghetti Monster? It's time for a Happy Dance and a blog.
A website called Twitch.tv allows players of video games to stream their efforts for a live audience. One of my favorite streamers, Sacriel, plays the game in question. It is what is called a Survival game with cooperative elements. This means one player or a team of players roam the world finding weapons and battling other players or teams of players.
A player like Sacriel joins a particular instance of the game. This lasts until there is only one player or team left on that particular instance, at which point another game begins. Cheaters watch the most popular streamers and join the same game, this is called Stream Sniping. The cheaters then attempt to defeat the streamer and often use against the rules code supplements to make themselves virtually invulnerable. This is the cheating aspect of the situation. Epic Games bans such cheaters when they spot them but the Stream Snipers generally create a new account fairly quickly. In this case one of the people being sued created at least nine other accounts after being banned.
In the legal system, in order to sue someone successfully you generally have to prove damages. So, you might well ask, how is cheating damaging Epic Games? It's just a few players being killed and they can just start up another game, right? Not to my way of thinking although we will have to wait until the courts weigh in on the matter.
One of the interesting realities of people using platforms like Twitch.tv to stream games is the revenue thus generated. When an engaging and technically skilled player like Sacriel plays a game like Fortnite Battle Royal, the game gets enormous promotion. When gamers see Sacriel enjoying himself immensely they too want to play the game and make the purchase. They even get an opportunity to test their skills against such streamers which is a big selling point. There is quite clearly direct correlation to game sales and popular streamers.
When Stream Snipers become prevalent, top streamers like Sacriel simply get fed up and quit the game. There isn't much point in playing whenever you start a new game an invincible opponent arrives and kills you. It's not fun for the streamer and it is not enjoyable for the audience to watch. Therefore, the streamer stops playing which, in turn, directly affects game sales.
As a Libertarian I'm also quite happy with the way this has played out. Epic Games attempted to simply ban such cheaters but when they were unable to effectively implement this tactic they were forced into legal remedies. I always appreciate trying to solve the problem without resorting to legal or law enforcement agencies, but there comes a time when reason is not an effective tool.
I think Epic Games has a case and I'm quite interested to see how this all plays out in court. I'm not of the opinion the Stream Snipers should be put in prison but hit her or his wallet and I think you have effectively curtailed the practice, and that's a good thing.
Tom Liberman