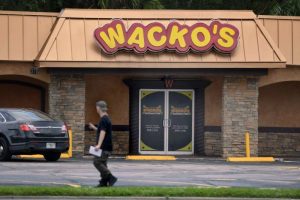 There's an interesting legal case involving Jacksonville Strippers and I thought with the news of Justice Ginsburg's passing it would be something that might interest her and certainly does me. In Florida a new law prevents Jacksonville strippers from being under the age of 21 in clubs that do not serve alcohol. This city ordinance is being challenged as unconstitutional and might, if pursued diligently, end up in the Supreme Court.
Justice Ginsburg spent her life championing the cause of women and Jacksonville strippers are in that category. The justification for the law is that women under twenty-one are closer in age to the current limit of eighteen, that the closer a woman is to eighteen, the more likely she is to be unduly influenced into a career she does not want.
In Jacksonville the city representatives decided all strippers must be fingerprinted and licensed before they can pursue their profession. They also came to the conclusion they would not issue such licenses to anyone under twenty-one. They do this in the name of stopping "sex trafficking".
The reality is relatively simple, for whatever reason we've established eighteen is the age when citizens are legally adults and can largely make their own decisions. If someone is eighteen, they can have sex with whomever they want, they can take their clothes off for money, they can model in a skimpy swimsuit, they can do anything any other adult can do and the government should not get involved, no matter how repugnant we, personally, might find the situation.
You'll notice the do-gooder city hall members in Jacksonville have not asked to fingerprint and license members of the University of North Florida Osprey Division I football team. These young men are playing a violent game and run an enormous risk of personal injury but no one seems all that concerned about their welfare, despite them being under twenty-one. I'm sure you find that as surprising as me, as in not at all.
Today's question is What Would Ruth Do? Justice Ginsburg lived a life actively and vigorously fighting for women to have the same rights as men in this world of ours, that includes Jacksonville Strippers. Once we've decided the legal age of adulthood is eighteen, we must not start picking and choosing particular professions and genders to protect from their own decisions. This is Big Brother at his worst, picking on adult women because Big Brother knows better how to lead their life than they do themselves.
Big Brother says young women are too weak of mind, too easily preyed upon, and we must protect them. Big Brother is, as usual, wrong.
The question is easily answered for me. What about you?

Loading ...
Tom Liberman