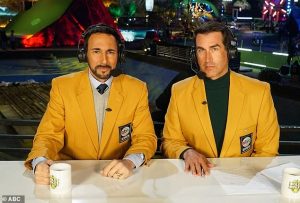 Producers of the miniature golf show Holey Moley decided that amplifying the bad segments from season one for the second year was a good idea. Sigh. I actually semi-enjoyed the first season which pairs miniature golf with obstacles. I hoped they would fix the issues and remove the problems for the second season. Wrong again, Tom. Wrong again.
I recently ranted about how Lego Masters was nearly unwatchable because of the format; at least it was the first season and, hopefully, they will make changes for next year. Holey Moley had that very opportunity and decided amplifying the bad segments of the show was the best way forward. If you enjoy my rant blogs then gear up. If not, well, move along, nothing to see here.
The show pits twelve, eight for season two, golfers against each other in head to head competitions on holes which run a wide gamut of challenges. This is a problem. One hole consisted of a straightforward four-foot putt. Whomever took more strokes to finish was dumped from the platform into a pond. Another hole had competitors making long putts through a windmill which they then navigated themselves, risking being pushed into the pond. In other words, the challenges were completely different.
This leads to three problems. Sometimes a competitor in the first round ended up playing the same hole in her or his second or third round while their competitor had never played the hole before. This is obviously unfair. The second problem is some of the holes were so complex it took the players long minutes to navigate them. This meant not all the first-round matches could be shown completely. Finally, some of the holes were so difficult they required more physical ability than golfing skill giving an advantage to coordinated and fit competitors.
The same problem of too much time spent on skits and jokes seen on Lego Masters was present in Holey Moley, although not nearly as bad. Overly long introductions, explanations, and long periods spent where the hosts set up complicated and, largely, unfunny jokes took away from gameplay. So much so that some of the competitions were not shown at all.
What did they do for season two? The made the complicated and difficult holes longer and more physical so that is now almost an American Gladiator like contest. They spend even more time on promotion, skits, and nonsense. The essentially decided amplifying the bad was what people wanted. They might be right.
Maybe people want more hype, more dunking in water, more smashing into things, more stupid jokes, and less miniature golf. I am not one of those. It's what I despise about most movie sequels. They spend time amplifying the bad things in the first movie, or even amplifying the good features until they are badly overused and boring.
I couldn't even make it to the end of the first episode of season two of Holey Moley. Oh well.
Tom Liberman