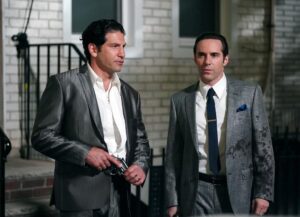 I'm sorry to say that I finally got around to watching The Many Saints of Newark. To say it was disappointing is not to do it justice. I feel like I went through some version of the stages of grief while watching the hot mess that can charitably be described as disjointed fan service.
I'm a big Sopranos fan. I loved the show and watched the entire arc twice through and wouldn't mind doing so again. I even wrote a blog about how Little Carmine Lupertazzi most certainly did not kill Tony Soprano in the show finale.
I read the various reviews of The Many Saints of Newark and I knew it didn't live up to expectations, that people were disappointed. These reviews did not prepare me for the reality. On with my grief.
Stage One: Expectations
Even though I read the negative reviews of The Many Saints of Newark I still went in with at least middling hopes. I didn't expect it to be great but I did imagine a mildly entertaining movie and perhaps a few nods to the brilliance of the original series.
My expectations were largely met in the first twenty minutes or so of The Many Saints of Newark. Then we kept getting scene after scene but no actual plot, not story, no through theme, no structure. I discussed this problem in The Gilded Age so you can read my full thoughts here. Eventually, I said to myself, there has to be a main plot, right? This is David Chase after all. His brilliance in the series cannot be denied.
Stage Two: Confusion
We're an hour into the show now and there is still no sign of plot. Wait, did they just kill the Ray Liotta character. I saw previews where he spoke with Dickie Moltisanti in prison. He can't be dead, can he? No, he's dead. I mean, he's on fire and not saying anything which is a good indicator.
No, seriously? A twin brother? You've got to be kidding me? Is this an afternoon Soap Opera? I'm utterly confused at this point and still waiting for a plot of any kind. There has to be some direction eventually doesn't there?
Stage Three: Rage
I'm angry now. It's nothing but a series of scenes with lots of fan service. Entire scenes are simply designed to provide a line of fan service to those of who loved The Sopranos. This is ludicrous. How did this happen? Screw you for spitting on the legacy of the Sopranos. Why, David Chase. Screw you, Many Saints of Newark.
You are this bad. You are really terrible. The acting is fine. The sets are good. There is no main story. There is no structure! Why is anything happening? There are twelve different storylines going on and none of them are explored with anything other than superficiality. There is no central thread. This movie sucks!
I hate every single character in the movie. I hate them all.
Stage Four: Rationalization
Ok, I accept The Many Saints of Newark is awful. I'm over that. It's bad and these things happen. It's got to be that Chase didn't want to make the movie. That he made it at the behest of money loving studio executives and intentionally sabotaged it.
He let the executives write the script. He did everything they wanted in a deliberate attempt to make a bad movie. Yeah, that's got to be it. Chase can't have completely gone off the deep end. It's deliberately bad. There will be some nod, some tip, right near the end, to let me know it's all a goof.
Stage Five: Acceptance
Dickie drowns the girl? Junior kills Dickie? The ending is more fan service? Ok. It's bad. They tried. The magic is gone. You can never go home again. At least I'll get a blog out of it.
Tom Liberman