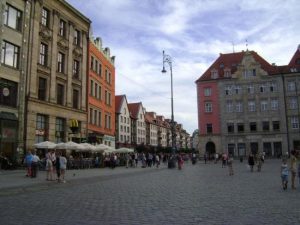 There was a time in this country when the town center was where people gathered to socialize, shop, and spend their free time. Then along came a fellow named Sam Walton and destroyed the vast majority of them. First it happened in larger communities but eventually Walmart spread to small towns and mom and pop stores went bankrupt in enormous numbers.
A lot of people were upset by this turn of events. Sam Walton was known as the Most Hated Man in America in rural areas and small towns. The people who ran those local stores fought hard. They put up the good fight. They asked their neighbors and friends to shop at their store rather than Walmart even though the price of goods was higher and the selection was smaller. A picture of economic doom and gloom was forecast as more and more small businesses closed and enterprise business began to take a larger share of the market.
With the success of Walmart came all sorts of Big Box stores and Malls. The gathering place for people changed from town centers, which largely became deserted, to malls and large shopping stores. Anyone who had a small business again fought hard. They took out loans. They asked friends and family to remain loyal.
Then the internet arrived and with it online shopping led by Amazon. Social Media blossomed in this Information Age. Now it was the malls and big box stores' turn to feel the pain. People didn't need to leave their house to socialize or to purchase most goods. They did due diligence with online research, ordered the product they wanted at the price they liked, and had it in a remarkably short period of time.
The malls are fighting hard. They are now offering more of the sorts of services people can't get online, things such as haircuts and dining options. The people in the community who are losing their jobs because of online shopping are pleading with their fellow citizens to buy at the mall instead of online, hoping to save jobs.
What does it all mean? All those closed mom and pop stores, all those shuttered malls, all those lost jobs? It means we get a better product, in a timelier fashion, at a lower price, and there are more jobs than ever!
The reason the mom and pop stores died is because they couldn't compete economically with the big box stores. The reason the malls are dying is because they can't compete with online shopping. The winner in all of this is you and me.
It hurts when that little shop around the corner closes and the people you know and like lose their jobs. Economics and capitalism is a harsh mistress. They don't promise wine and roses for everyone. Nothing can make everyone happy all the time. But look around. What can't you purchase? What thing that you want can't you have? Yes, there are some things out of your price range, but far fewer than as little as twenty years ago.
The next generation is going to expect this sort of service in the same why we can't live without a remote for the entertainment center. There is no going backward in this world. You can't go home again.
You can lament the end of the malls and all the jobs the same way people were upset when all the family owned businesses went under to the tornado that was Sam Walton. Don't worry, you probably won't notice because you'll be busy posting a picture of your new hat on Social Media.
Tom Liberman