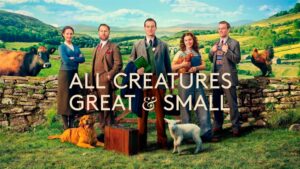 In addition to Around the World in 80 Days we get the first episode of the second season of All Creatures Great and Small. Your faithful blogger is going to have busy Mondays for a few weeks. You can refer to my review of the first season of All Creatures Great and Small here.
I won't go too deeply into my thoughts on the first season. It was very enjoyable. I anticipated the second season with great hopes but also deep fears. Wrecking a show with sequel seasons is not exactly impossible. However, I'll dispense with any drama, All Creatures Great and Small is once again great!
Spectacular Opening Scene
I can't express enough the wonderfulness of the opening scene of All Creatures Great and Small. I've written a review of the first episode of Around the World and the opening sequence here is something the writers of that show should commit to memory.
We start off with James working in what is clearly not Darrowby and Siegfried's surgery. What is going on? Has he left? Drama from the first second without a word of dialog! James finishes splinting kitty's leg and then all is explained. The veterinarian at this high-tech surgery offers James a job after his two-week stint filling in.
The vet is highly impressed with James and so is the nurse. Conflict! Basically, what is clearly going to be a season long storyline is introduced in the first minute of the episode. This, this, this is how you do it! There is also mention of transferring the practice to pets instead of farm animals, another season-long conflict I suspect.
Now, we know James loves Darrowby and there is no way he's taking this job. So, what do we do? We give him reasons. His father is ill, his mother wants him home, he has friends, knows the town. Within five minutes of the credits, we have drama, conflict, a season-long story with an unknown outcome.
Then there are the little touches. The nurse is keen on James so a potential love interest is thrown into the mix. The vet is kind and gives James time to think about the job offer. The mother makes a home cooked meal and tries to convince James to stay with the phrase, "Home is where the heart is."
Meanwhile the father knows his son, he knows James is making his own way and is proud of it. It's not a black and white decision to stay or go. It's shades of gray.
This is delicious, delightful. We all know where James's heart is. Mom says you can't get home cooking like this in Darrowby but we know Mrs. Hall's feasts all too well. Yes, mom, I'm afraid he can. Mother is saying one thing but we, the audience, are hearing something entirely different. It's superb writing. The writers understand the story, the characters. This is how you start a season.
Another Conflict
James arrives back in Darrowby and we find out it's around Easter thanks to Tristan eating some of the chocolate egg. Simple, effective.
We then cut to Siegfried's house where Mrs. Hall has embroidered professional credentials on Tristan's bag. Uh oh, we say to ourselves even before Siegfried tries to stop the plan. We know Tristan hasn't passed his exam. Another season-long conflict brewing!
The Main Story
Only after setting up the entire season, do we get into the episode. There are two story lines, one involving a dead bird and the other a wayward puppy.
The dead bird allows us a little comic relief, provided as usual by Tristan. I'd like to take a moment to discuss a small touch. Mrs. Tompkins budgie needs its beak clipped. The bird is her only companion these last ten years since she lost her vision. Tristan is on the job. That is until the bird dies.
Now, there are some people in this world, not to name names, who will immediately look up the lifespan of a budgie to see if natural causes are possible or if Tristan just committed parakeetacide. Wikipedia informs people like the aforementioned that a Budgerigar has a lifespan of five to eight years. So, natural causes are perfectly reasonable and poor Tristan did nothing wrong.
It is little touches like this that bring a smile to my face. A writer included the dialog about the bird being a companion for ten years. Someone knows the lifespan of a Budgerigar. It all fits. They took the time to do it right. Doing so isn't easy but it is appreciated.
Small Problems
My only issues with the episode are nitpicky and unimportant. Having all the sheep passed out was overkill. Anyone would know to train Scruff rather than kill him. It didn't take a genius to figure out the solution to the problem.
That being said, conflict is necessary and there's nothing wrong with a little drama to move the story forward.
The Music
I'd like to take a moment to reiterate my thoughts on the music from this show. They don't shove it down your throat like every other drama. The music is there, quiet, subtle, enhancing a scene. It's not blaring and distracting. I don't understand why this is apparently so difficult to understand.
Conclusion
Superb start to the second season of All Creatures Great and Small. I can't wait for more.
Tom Liberman