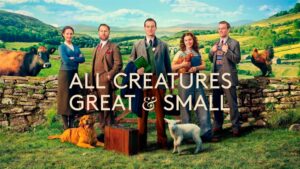 Ah, that's the stuff. After a lackluster hour watching Around the World in 80 Days, we get some excellent entertainment. If you hadn't guessed already, I enjoyed the second episode of All Creatures Great and Small as much as I liked the first.
This episode of All Creatures Great and Small expands on the main conflicts introduced in the first episode while also introducing potential romantic interests for Siegfried and Mrs. Hall. The major story arc continues to be James potentially taking a new job and Siegfried's unwillingness to listen to James's ideas.
Inciting Incidents
Episode two unfolds leisurely, as is the general pace of All Creatures Great and Small. The big Daffodil Day festival is around the corner and the gang all purchases tickets except Mrs. Hall who prefers to stay at home reading a book. Siegfried and Tristan leave to tend to an important customer James apparently forget the day before. Meanwhile James and Mrs. Hall are left to hold down the fort but their orderly schedule is disrupted by an emergency. Helen drops by because Tristan told her James had something to ask.
These inciting incidents largely direct the rest of the episode, as it should be. The events of the opening sequence let the audience know what to expect. This is nothing more than standard writing technique but it seems absent in most other shows I watch. Every thread introduced in the opening sequence of this episode of All Creatures Great and Small plays an important role the rest of the way.
The Incidents Lead the Plot
At surgery, Mrs. Hall redirects all the morning clients to the afternoon in order for James to tend to the wounded dog. A trap caught the dog and mangled its leg. The owner is a veteran who also has a wounded leg. He and Mrs. Hall find a connection and it quickly becomes apparent this is a romantic interest.
James saves the dog, of course, although recommends it be kept overnight to make sure infection hasn't set in. Events unfold naturally in a way that makes sense. There is drama without piercing music telling us the situation is frightening. I found myself far more afraid for the dog than for Fogg and Passepartout an hour earlier as they stumbled through sandstorms and desert heat. Why? It all seemed real, natural, believable, part of a flowing narrative. I am immersed.
Meanwhile, Siegfried defers to an important client who threatens to move his business to another veterinarian. Then we have some comic relief with Tristan and a large sow. On the return trip Tristan makes some pointed remarks in regards to Siegfried's timidness in regards to the client and general demeanor of not wanting to take risks in his old age. This speech drives future narratives between Siegfried and James in regards to upgrading the surgery to modern standards. In other words, it is there for a reason.
The Pay Off
All Creatures Great and Small does not disappoint. Everything setup in the opening sequence comes to bear in the last half of the episode. James and Helen dance at the festival. Siegfried stands up to the important customer. Mrs. Hall sits alone petting the wounded dog as a symbolic substitute for a romantic relationship with its owner.
We, the audience, are rewarded for paying attention to events. Things don't come and go for no logical reason therefore it's important we watch each moment of All Creatures Great and Small with attention. When I know something is pertinent, important, I care. I care about the characters and what happens to them, I'm invested.
Wrapping Things Up
We end with questions unanswered and further intrigue ahead while still wrapping up this episode in a satisfactory fashion. The wounded dog is fine. Helen is ready to move on. Mrs. Harris declines a polite invitation for a dog walk but we know it's not the last of the handsome man we'll see.
Meanwhile, James's mother took it into her own hands to accept the position offered at the modern veterinarian clinic leaving James torn. He wants to stay here but he feels an obligation to his parents who paid his way through school.
Siegfried makes of point of telling James that suggestions for improving the surgery are welcome although we're not completely sure if we believe the stern owner.
Conclusion
Another excellent episode of All Creatures Great and Small. The writers, actors, set designers, and all the rest clearly pay attention to details. Simple things are not taken for granted. Near the end of the episode an old client comes in who reminds us of how James and Helen spent the night attending a pregnant doggo. It's the same dog or at least one that looks the same.
It's a real pleasure watching this show and I eagerly await next week's episode.
Tom Liberman