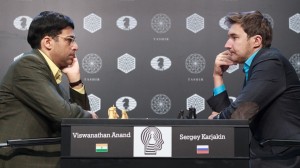 I know the title of this blog isn't too exciting but if you'll put up with me for a moment I think I can show how a controversy that is roiling the chess world might well have a big impact on you.
The situation is this: A company called Agon Limited contracted with the FIDE (World Chess Federation) to have exclusive rights to develop, organize, and commercialize the World Chess Championship cycle. As part of this exclusive control they demanded that no other site publish information about ongoing games in the just concluded 2016 Candidates Tournament. In the past other chess orientated sites have broadcast such events on a move-by-move basis. They didn't broadcast a live view of the players, just the moves those players made on an image of a chessboard that was updated regularly.
Several sites refused to accept this demand and went ahead with their broadcast. Agon is now moving forward with legal action against those sites.
At this point, if you're still with me, you're probably wondering how this effects you.
If Agon is successful in their efforts it means that no one can legally give information about an ongoing event without permission from the original content provider. This is an extraordinarily broad restriction. It means that sports websites like ESPN could not give you updates on the status of current events. It would mean, for example, that the only way you could learn what was going on in the currently running 2016 NCAA Basketball Championships would be to tune into the primary broadcaster. No other outlet could give you so much as an update on the score of the game.
It could be extended to non-sports events like awards shows. No entertainment outlet would be allowed to broadcast the winner of an award until the conclusion of the show.
The benefits for the original broadcaster are obvious. If the only way to get information about an event is to watch said event from the provider, it forces more people to watch the show. The drawbacks for everyone else are likewise apparent. Every other outlet that gains an audience by broadcasting information about the event is out of business. All users that cannot or do not want to watch the original broadcast are left without recourse.
One can certainly imagine if the primary broadcaster has sole rights to updates of an event, they might well find a fee-based structure in order to gain access. They have a captive audience. That also cannot be good for consumers.
Paying attention to what this about yet?
I'm hard pressed to believe the courts will support Agon in this lawsuit but it bears watching.
Tom Liberman
Sword and Sorcery fantasy with a Libertarian Ideology
Current Release: The Girl in Glass I: Apparition
Next Release: The Gray Horn