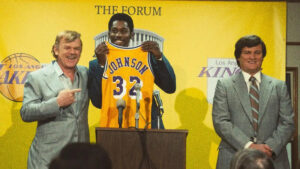 Introducing new characters into a series is not always an easy task. When the series is in its first season the audience meets new people fairly frequently and how they interact with the existing characters is important.
Today I'm discussing the way the Gilded Age and Winning Time introduced a new character and why I think one method is better than the other. In both cases the new character is a crotchety older woman and mother to an established character. That's why I thought it might be an apt comparison.
Mean Old Mom
In The Gilded Age we've met the nasty housekeeper, Armstrong, from the Van Rhijn estate on several occasions as she made life miserable for Peggy and others. Meanwhile, Dr. Buss is one of the main characters in Winning Time and we know a lot about him.
Both of those characters have mothers, obviously. It turns out both women are more than a bit crotchety.
We meet Armstrong's mother when Armstrong takes a day off from work to help the bed-ridden woman. Armstrong takes non-stop abuse from the horrible woman. Mom is as one-dimensional a character as you can imagine. Mean. That's it, no more, no other traits, nothing redeeming.
Meanwhile we meet Momma Buss when her son comes to her with the company books for help with accounting issues. She's biting in her critique of Dr. Buss and they have quite the exchange that seemed like real family to me. Near the end it is clear that while she is nasty, she also cares for her son and wants what is best.
The Purpose of Side Characters
Often times the purpose of side characters is to give us insight into the main character. By meeting Armstrong's mother and Momma Buss we should learn about the two more important characters.
In this case it seems to me the idea of introducing Armstrong's mother as a miserable and hateful person was to make us more sympathetic to the longtime Van Rhijn maid and her treatment of Peggy.
The idea behind introducing Momma Buss is to give us some awareness of the kind of upbringing Dr. Buss had and perhaps his own drive to succeed.
The Aftermath
After meeting both mothers, I liked Momma Buss despite her flaws but Armstrong's mother was so vile, so mean, so without redeeming characteristics that I should have disliked her but, because of her one-dimensional nature, I didn't really care much one way or the other.
This is a general problem with the Gilded Age. We cycle through characters and story lines so quickly that I don't really get to know anyone at all. I don't hate them but I also can't say that I genuinely like any character in the Gilded Age. Young Jack is likeable and we got an extended scene with him this week but that's not a topic for today.
As discussed, I think portraying Armstrong's mother so negatively was to get us to have sympathy for Armstrong. And yet, in the latest episode, Armstrong is absolutely horrible. I don't like her. I have no sympathy for her. So why did we meet her horrible mother? One more person to dislike on The Gilded Age? As if there aren't enough?
Meanwhile, the short scene with Momma Buss gave us insight in Dr. Buss as did the scene with Red Auerbach. Michael Chiklis absolutely slayed it in that role by the way.
New Characters Add to the Story
The new characters in Winning Time, Momma Buss and Auerbach, added greatly to the story. They interacted with the main characters in ways that pushed the story forward. In ways that gave me insight into the main characters. They were introduced seamlessly and easily.
New characters in the Gilded Age; Armstrong's mother, Mrs. Fish, Carrie Astor, and many more don't really seem to do much. They are there. They speak. The allow other events to happen but they don't interact meaningfully with the main characters. They give us little or no insight and they come and go like a freight train in the night.
Conclusion
I don't say Winning Time is a perfect show or that The Gilded Age is without merit. I say that someone at Winning Time understands how to tell a compelling story and maybe someone over at the Gilded Age should take some notes.
Tom Liberman