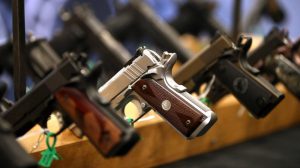 Crimes that No Longer Exist
A new Texas gun law overrides previous illegal activities, particularly in regards to rules for carrying a firearm. Yet there are many people in prison for violating those laws in the past. Should we release those prisoners immediately?
The same goes for prisoners serving time for drug behaviors no longer considered criminal. I find it an intriguing question worth exploring and that is my aim today.
It was a Crime Then
Some will say the prisoners committed crimes at that time. Or at least a jury found them guilty of doing so. Just because carrying a weapon without a permit or training is now legal thanks to the new Texas gun law doesn't mean people doing so didn't break the law in the past.
I understand the argument although I disagree with it. Now, if you argue someone who drove fifty miles per hour down a thoroughfare with a speed limit of thirty but where the limit is now sixty should be released, I don't agree. Driving over the speed limit is still a crime. Just because the limit changed on that particular street doesn't absolve someone of breaking the existing rule.
I think a crime like carrying a weapon without a permit is different than running a red light at an intersection that no longer exists. If the state decides it's perfectly legal to carry a firearm without a permit or training, then immediately release anyone incarcerated for doing so in the past.
What is a Crime?
To a large degree my argument comes down to defining a crime. It is my opinion, if we decide a certain activity is not criminal any more, then it behooves us, in the name of justice, to release anyone who committed that supposed crime during the period it was considered against the law.
What is the point in declaring something a crime in the first place? It's largely designed to protect the people of region from some negative outcome. One of the biggest problems we have in the United States, in my opinion, is that we use the legal system to punish people we don't like.
If the state legislators of Texas declare people can carry a gun without a permit, then no one should be in jail for doing so. Who exactly are we serving when we keep such offenders in prison? They did something now considered perfectly legal.
If you want to keep people in jail for committing that particular crime, then you should be against changing the law now. Freedom is not something to take away lightly.
Tom Liberman