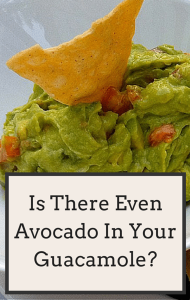 If you're like me, you love guacamole and avocados. Yum. The price for avocados is skyrocketing and this is causing a lot of pain in restaurants who use the delicious fruit in various dishes. It strikes particular hard for Mexican establishments who tend to use it across a wide array of menu items but other restaurants are suffering as well. What do they do? Use other ingredients and create Fake Guacamole.
If you weren't against tariffs because you're a freedom loving Libertarian who promotes open and free trade then this phrase almost certainly hits somewhere most likely even more important, your stomach. The very words Fake Guacamole should be as rage inducing as trying to Get Over It. Ok, that's a video game reference and sometimes I just can't help but let my inner nerd out for all to see. Well, actually, it's pretty much always on display but I won't get sidetracked from my mission to free you from Fake Guacamole.
I've written about why protectionism hurts consumers far more than it helps those industries it purports to protect so I won't reiterate here. The results are plain to see. Avocados cost a lot more today because tariffs have exacerbated a poor harvest and increasing demand. Today's issue is the sort of punch to the gut that I think economic philosophy and Libertarian ideology don't impart. You, the consumer, have most likely eaten Fake Guacamole in the last few months. You are certainly paying more for what avocados you still purchase although it's almost certain you've cut down on that particularly delightful and healthy food.
This is the direct result of policies that promote protectionism and their attendant tariffs. How does it feel to know you've been tricked? That you've been served something under false pretenses because politically motivated economic policies forced the restaurant to do so in order to survive? Perhaps you think it's worth it, that the trade off is worth the horror of fake guacamole. I disagree because I see no benefit from the policies of protectionism. They are merely political rallying points to inspire a group of citizens who are not happy with the direction of government.
If you are not happy with where our government is going, more bad policies are not going help. Things are hardly perfect in the United States but don't let that encourage you to vote for politicians who enact policies detrimental both in the short and long term. Don't let your rabble be raised in negative ways. Demand good decisions from your leaders with your votes. They'll listen, I promise.
Free trade means cheaper avocados and real guacamole. How can you be against that?
Tom Liberman