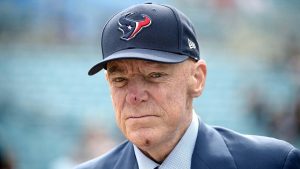 The owner of the Houston Texans, Bob McNair, recently made a comment for which he later apologized. A National Football League player named Richard Sherman thinks the original statement was a true indication of the feelings McNair has and that the apology is merely pretend. What I'm going to discuss is not the nature of the comment itself but the reality of Sherman's analysis.
To get you up to speed, there is an ongoing issue in the NFL in which players are kneeling or otherwise protesting during the playing of the national anthem. The owners largely do not like this. McNair was quoted as saying something along the lines of: We cannot let the prisoners run the asylum. This equates the players in the NFL to incarcerated people. McNair was apparently confronted shortly after making the statement and he apologized.
Sherman believes McNair truly meant the statement, that he associates the players with inmates. People who should have no say as to how the team is managed. Sherman believes the apology a lie motivated by politically correctness.
Sherman believes McNair is not alone in his opinion. Sherman thinks other NFL owners feel the same way, players are to be used as best as possible and discarded when their productive years are behind them. Sherman also believes not all owners think like this. He thinks the owner of his team, Paul Allen, does not think this way about his players.
We cannot know for certain if McNair's original statement is his true opinion or not but I think it's an interesting question. Did McNair mean it when he compared NFL players to prisoners in an institution? Is he bowing to business expediency and political correctness by pretending to apologize?
I think Sherman's opinion is legitimate. I think there is quite a good chance McNair truly believed what he said and, upon reflection, realized it was a terrible thing to say. Or perhaps McNair is simply pretending to apologize. That he, in his heart, believes what he original said. Again, we have no way of knowing the answer to this question, only McNair can tell us.
Sherman goes on to make an incredibly interesting point. He says he would rather McNair tell the truth, even if it is antithetical to Sherman's own beliefs. Sherman would rather know the honest opinion of McNair and thereafter avoid him.
Let's imagine I know someone whose opinions on a subject are deeply offensive to me. Would I rather they pretend not to have those opinions when around me, or would I prefer if they told me exactly what they were thinking? I find myself in complete agreement with Sherman. If you have an opinion, state it. If I don't like it, well, it's up to me to decide if I want to be around you in the future. Sure, when you make a statement I don't like, I can speak up. Trust me, I do. If you refuse to back down then we are at an impasse. The ball is in my court. I can choose to associate with you in the future or I can choose to avoid events at which we might meet. If we do meet, I can choose to circumvent topics of conversation where I know we conflict and focus on areas where we might agree.
I do not disagree with anyone about all things nor do I agree completely with anyone on all subjects. I, like Sherman, would prefer to know you true opinions. Then I can make judgments and take actions that I deem appropriate.
My opinions are in my blogs and my novels for all to see. I'm an Atheist. I'm a Libertarian. I don't suffer fools lightly. If that offends you, and there are many who are offended, then the ball is in your court. You can choose to engage me or avoid me. You can choose not to be friends with me on Facebook so you don't have to see my thoughts on various topics. That's cool. I respect that.
I think that's Sherman's point here. He wants McNair to be honest. If they disagree, so be it. What he doesn't like is saying one thing while behind the scenes doing something else entirely. Say what you mean, and mean what you say.
That's not to say you shouldn't apologize if you say something and upon further examination realize it was truly awful. You are allowed to change your opinion. I certainly hope McNair is truly sorry for what he said, that he realizes the condescending nature of his statement. Then the apology is warranted and should be accepted.
I'm sure Sherman, and others, will be watching McNair more closely in the future. Will his actions down the road support his original statement or the apology? That's the true test. We can say anything we want. It's our actions that prove the integrity of our words.
Tom Liberman