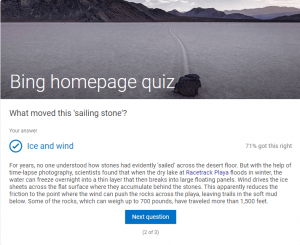 One of my daily activities in retirement is to take the daily Bing Quiz. Essentially, the search engine Bing has a daily picture on the front page. There is a Bing Quiz associated with this picture if you click a link. It includes a small blurb about the picture and generally at least a few of the questions in the Bing Quiz are addressed in this blurb. I've noticed that a fairly high percentage of quiz takers answer such questions incorrectly and that intrigues me.
The only explanation that makes any sense to me is that people are clicking on the Bing Quiz and taking it without bothering to read the blurb. Now, there is an incentive to take the quiz whether or not you get answers correct, you get a small number of Microsoft Reward Points. It's not much but it's something.
Now, to the point of this blog. I want to get the answers right, there is a small feeling of pleasure I get from answering the question correctly. I also feel a sense of disappointment when I give a wrong answer. The blurb in question is usually just a couple of paragraphs and only takes a minute to read. Taking the time to read the blurb and answer the questions correctly is of value to me. It is clearly not of value to others, based on the percentage of people that get Bing Quiz answers wrong despite often being given the answer.
Is that a product of the way my brain works? I'm not a neurologist but I feel fairly confident everyone gets pleasure from answering correctly and feels some disappointment in not doing so. Some tiny chemical release generates this pleasure I'd guess. Anyway, I think it is universally human to enjoy being right and dislike being wrong.
Why do so many people trade being right for saving a minute of reading or doing a modicum of thinking? It's not my place to judge anyone for this behavior and I'm not trying to put myself on some sort of pedestal because I choose to read the blurb and get the answer right more often than not. Whatever, take the Bing Quiz without studying first, none of my business.
I do find it interesting. Can we diagnose more important character traits based on such simple behavior? What about you? Would you take a quiz without studying first?

Loading ...
Tom Liberman