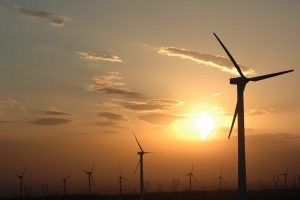 Overview
The recent freeze in Texas, a law in Missouri, and wind power installations in China give me an opportunity to write a blog. Given such a chance I'm not exactly the sort inclined to turn it down.
Basically, wind power in the United States is considered a Green Agenda and largely, although certainly not completely, associated with the Democratic party. The recent freeze in Texas caused enormous power shortages and Republican politicians are using this talking point to attack wind power in general. In Texas the governor blamed frozen wind turbines and now in my beloved home state of Missouri the Republican led legislature has disallowed eminent domain to install wind power lines. Meanwhile, in China they are being installed in ever greater number and soon they will lead the world in wind power.
The Issues
Renewable energy is cleaner than fossil fuels and causes far less, although some, environmental harm. Of this there is no question. Soon wind power and other renewables will provide cheaper power to the communities that avail themselves of its use. There is some debate about this although the trend of ever cheaper wind power is difficult, but not impossible, to ignore.
Because the United States is currently embroiled in a political situation in which what is best for the country is secondary to getting elected, wind power is in the crosshairs. It's relatively interesting because Texas is one of the leading wind power producing states and when the governor attacked that revenue source, he rather quickly walked back his statements, likely because it is generating enormous profits for powerful players in the state.
However, walking back statements can't undo harm in our current political environment. It's clear to me Republicans have largely decided that wind power is good election fodder and bashing it will not stop any time soon.
Wind power installations in the United States have crawled almost to a complete halt in large part because of Trump administration policies favoring coal and gas.
Missouri Law
The Missouri law is a case in point about politicizing such things. I agree eminent domain should be used sparingly and I'm not opposed to the law enacted by the legislature banning its use in bringing wind power to the state.
There are no such laws prohibiting such use for any other energy source. The Keystone Pipeline was largely built using eminent domain to steal farmer's land in Nebraska, North and South Dakota. Likewise, eminent domain was used to steal the land being used by build a border wall in Texas and other states.
This is a clear example of politicians playing favorites for one industry or one company and subverting capitalism.
Likely Results
The result of our political climate in the United States is clear. Wind power installations will be curtailed and delayed. Meanwhile in Europe and China such installations are moving ahead with great rapidity. This will inevitably put the United States behind in power generation and the costs associated with it.
If you were going to build a large factory and the energy costs in one country were significantly cheaper there, it must play a role in your decision. If the citizens of the region where it was to be built didn't fight it for environmental reasons, thus saving you court costs and headaches, it seems clear you would build your factory in that country.
Conclusion
The reality of the situation is wind power should survive on its own merits. I'm opposed to the government favoring one form of power generation over another because it is simple a subversion of capitalism. It's a sad day when China appears to adhere to the capitalistic mantra with far greater fervor than the United States. When the people of the United States want government agencies to determine which business succeeds rather than natural economic forces.
Tom Liberman