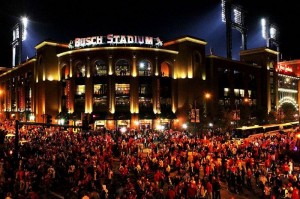 I was at the St. Louis Cardinal game on Friday night and we were defeated by the last place Cubs 7 – 2 in a game where we scored a couple of runs in the first inning and then stranded nine runners and looked pretty awful. During the game we had a "fan" behind us who seemed to only find enjoyment when the Cubs scored runs so he could tell us how awful our manager is and how awful our pitching is. I had a fellow next to me tell me there was no way we could make the playoffs with pitching like that.
On the other hand there were plenty of Cardinal fans cheering their team and upset with the loss. They talked about what was going wrong and what could possibly be done to make it better.
The next day they lost 5 – 1 to the Cubs punctuating what has been a frustrating season. Before the season started the Cardinals were the favorites to win the National League Central Division after having lost in the World Series the year before. Our starting pitching was solid and our young relievers looked good. There was some concern about our hitting but generally we were the favorites.
As the season has gone along we've had a number of injuries and the Milwaukee Brewers have played much better than expected. They've been leading the division almost since the first week of the season.
Expectations often drive our emotions when it comes to life. If the pundits predicted the Cardinals would finish in last place many people would have been happy to be just 1.5 games out of first place on August 30. But that was not the reality. We were supposed to win so expectations were high.
The players and coaching staff have talked about how tough this year has been and I would imagine expectations weigh as heavily, or even more so, upon them than they do on the fans. The miserable performances on Friday and Saturday afternoon led a lot of people to think the Cardinals were finished for the season. Perhaps they are. Maybe they won't make it to the playoffs. Maybe if they make it to the playoffs they won't win the World Series.
It doesn't matter to me. I'm a member of Cardinal Nation win or lose.
There's an interesting phenomenon in professional sports where some franchises seem to do well year after year. There is Packer Nation, Red Wing Nation, Laker Nation. I'm fortunate enough to have been a Cardinal fan since I can remember. Many of my best memories are from Cardinal victories and I'm not going to let a tough season make me forget those memories.
I love going to the games. I love rooting for my teams. I get mad when they lose. I'm willing to lay some blame. But I'm not willing to be happy when the team I love loses because it vindicates my prediction about a player or manager.
I'm of the opinion that a higher percentage of positive attitudes among fans helps build a Nation. Fans that root for their team, win or lose, that believe in them, that give them their support even in the tough times. With fans like that owners, managers, and players just want to win more than the other owners, managers, and players. And when you want to win more than the other guy, well, often times you do. Certainly not always, or even most of the time.
When it comes to my Rams I'm envious of the Packers, Steelers, and 49ers. When it comes to the Missouri Tigers I look with envy at the tradition and power of Alabama and Nebraska. When it come to the Blues I may hate the Red Wings but I get it. Their fans are proud and rightly so.
But, by golly, it's nice to be a part of Cardinal Nation.
Oh, by the way, the Cards took the second game of that double-header and fought back from a 5 – 0 deficit to win today 9 – 6. We're tied for first in the Central.
Here we go, Cardinals, here we go!
Tom Liberman
Sword and Sorcery Fantasy with a Libertarian Edge
Purchase The Broken Throne today!
See All my Books