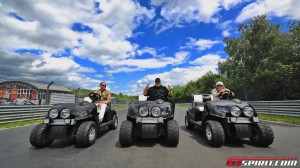 I've been following the saga of Kim Dotcom since January of 2012 when New Zealand police raided his home and charged him with copyright piracy. Things took another disturbing (at least for Libertarians) turn this weekend when a U.S. court decided that because he was a "fugitive" that the government was entitled to seize all of his personal assets despite the fact he hasn't been convicted of a crime.
I've written about this entire misguided prosecution several times before and I don't want to reiterate all my objections and will focus on this latest travesty today.
What happened is that the government of New Zealand, where Kim Dotcom resides, raided his house and took his property but the courts in that country decided that after nearly three years and no trial they needed to give him his stuff back. The United States then invoked a new legal proceeding claiming that Dotcom was a fugitive and as such they could seize his assets.
How Dotcom is a fugitive of the United States when he never lived in this country and never did business in this country boggles the mind. How the United States is entitled to steal … er seize … the assets of a person who was arrested, but untried, in another country is frightening. What can't the courts decide? Who can't they bankrupt?
The United States now owns $67 million worth of what used to be Dotcom's property. His business is destroyed and he has yet to face trial three years after his initial arrest. The United States now owns his bank accounts, none of which resided in the United States! They own them! The accounts legally belong to the United States Government because a U.S. court decided the accounts of a man from another country was a fugitive.
There has been no trial and Dotcom wasn't even legally allowed to defend himself in this latest phase. He now has no money to pay his lawyers to continue his case.
Who is safe from such rapacity?
Are you?
Tom Liberman
Sword and Sorcery fantasy with a Libertarian Ideology
Current Release: The Black Sphere
Next Release: The Girl in Glass I: Apparition