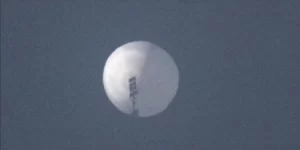 China is spying on the United States with a Spy Balloon. Stunned. Shocked. Outraged. How could this happen! We must condemn China for this horrible offense against our country. I mean, it is horrible to spy on another country, right?
The United States Congress, in their near infinite wisdom, voted 419 – 0 to condemn China for spying on the United States with a spy balloon. Perhaps many spy balloons. Who can say? Unanimous! That'll teach those Chinese not to spy on us. We hold the moral high ground here!
Stupidity Reigns
Don't get me wrong, fill up my comments with outrage. I've got no problem trying to counter the Chinese spy balloon. Shoot it down. Track it. Understand how the Chinese are spying on us and prevent it in any way we can. What bothers me is this moronic condemnation from our brilliant leaders.
Everyone reading this is well aware the United States uses many methods to spy on China, Russia, Iran, North Korea, and, as Edward Snowden will tell you, illegally on our own citizens and most of our allies as well.
The fact this resolution unanimously passed through the House of Representatives is illustrative of how useless our government is becoming. This is the sort of legislation both parties manage to work on together. Useless legislation.
Condemn Ourselves
When we condemn another nation for spying, we condemn ourselves. Spying happens. Very intelligent people work diligently to keep our country safe from threats around the world. I applaud them. They are doing good work. Other countries have exactly the same dedicated people doing it for them. This is the nature of the world. I realize it, you realize it, anyone with half a brain realizes it. This, of course, leaves out the members of the House of Representatives.
Not one member voted against this ludicrous condemnation. Not a single person had enough guts to stand up and say, this is dumb. This is useless. This is a dog and pony show designed for the sole purpose of giving the voters of this country the illusion we are actually doing something.
The Voters Responsibility
We vote for the people who represent us. If they spend their time passing useless and hypocritical resolutions because they think we will approve, it's our fault. We voted for them. This vote clearly demonstrates the members of the House of Representative think we're morons, maybe they're right.
Conclusion
If I were in charge, I'd make a simple statement. China spies on us. We spy on China. If you don't realize this simple fact and piss your knickers because a spy balloon flew over the country then you're not living in reality. By condemning China, we condemn ourselves.
Tom Liberman