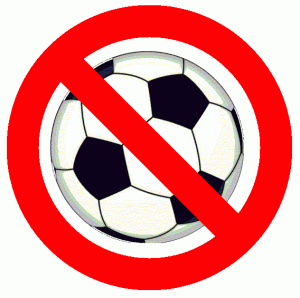 In my endless quest for news I read lots of stories and today, thanks to a lead from Scott Meslow from The Week, I saw an opinion piece by Ann Coulter deriding everything soccer. Normally it's not something I would take on but I'm going to make an exception in this case because there is a small part of me that thinks Coulter was trying to be funny.
Ann, trust me on this, the piece comes across as angry, petty, and just plain stupid.
For the purposes of full disclosure, I'm a soccer fan and all my great-grandparents were born right here in the United States of America. I've been watching soccer since Soccer Made in Germany was on PBS back in the 1970's. I became a big fan of the Dutch side Ajax when they were dominating the soccer world in the mid 1990's. I've rooted for Holland on the world stage ever since. That's not really the point of course.
I can understand why some people don't like soccer. It's a nuanced game with a huge amount of continuous action but relatively little goal scoring. It's not setup well for television as there are no natural breaks in the game except half-time. If you don't like soccer, then don't watch it. I'm not a big fan of car racing. I've got a couple of buddies who love it. I don't get it, I don't enjoy it, I don't watch. I don't deride them. They love it the same way I love baseball. Good for them. Enjoy life, do what you love.
Coulter seems to be just angry and plain wrong so often it's astonishing. Her first point is that individual achievement has no meaning in soccer. Tell that to Messi and Ronaldo. She argues that boys and girls play soccer together and therefore it's coeducational ignoring that girls play football until a certain level and it's the same in soccer. She argues that humiliation and injury aren't part of soccer and these are apparently things to be desired. Her point is wrong and wrong. Injuries and embarrassments happen in soccer all too frequently and it's a shame they do.
Each point, one after the next, is wrong.
This is when I started to think maybe she was writing satirically, trying to be funny. But she's not. It's not light-hearted banter, or perhaps I just don't have a sense of humor. It's mean. It's reaching. It's trying to find reasons to dislike something and associate anyone who likes it with a political party. I'm absolutely certain there are many Republicans who love soccer and many Democrats as well and at least one Libertarian (me). I'm positive political affiliation and soccer love are not in lockstep with one another.
And I suppose here's my real point. If you like something, I'm glad that you like it. It's great you enjoy making Star Wars Lego TIE-Fighters. I'm thrilled you get enjoyment from doing it. I'm happy that you're happy.
What sort of person hates the fact that someone else is enjoying themselves? It's just nasty. It's vicious. It's an indication of a terrible poison burning inside a person. How can anyone be so angry because someone else is having fun at a big old soccer party?
Of course the other possibility is that it was an attempt at satire. Then it's just bad writing.
What do you think? A poisoned mind that hates everything different? Failed satire? Successful satire and I'm just missing it? I'd particularly like to hear from anyone who is a Coulter fan.
Tom Liberman
Sword and Sorcery Fantasy with a Libertarian Ideology
Purchase The Broken Throne today!
See All my Books